How to Install Clear Bra on Car: A Comprehensive Kit Guide
Cars, in general, are great investments that we often want to keep safe. If we can preserve it as if we just bought it yesterday, we would. But for this to happen, you'll be needing some protection that can keep it safe from the different forces of nature that can wear and tear it like clear bras!
This highly recommended layer of protection for cars is more commonly known as paint protection films or automotive paint protection. Clear bras are urethane-based films that are applied on cars to protect its paint from road debris, rock chips, and other harmful materials it can get on the road. It's like window tint except it's meant to protect the car's paint, saving car owners from spending more on expensive paint jobs rather than heat!
And due to the high demand for the installation of paint films, bra kits have become available for those who want to protect their cars for a cost-effective price! Each kit comes with pre-cut films made to fit different areas of your car — all that's left for you is installing it yourself. Now it may be tempting to just go ahead and install clear bra paint protection films, some people might find it intimidating.
There's no need to worry, though. We've broken down the key guidelines on installing paint protection films! Read through the process and see if it's something you can handle all by yourself.
Installing Paint Protection Film At Home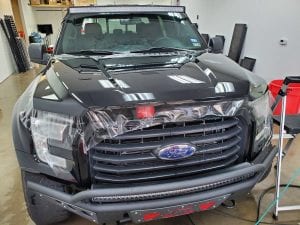 Though it used to be a project for the pros, paint protection installation can now be done at home with the help of kits for clear bra films or spray-on paint protection!
Before starting on anything else, drivers should ensure they have the following tools prior to installing anything:
 Spray bottle

Squeegee

Shampoo solution

Lint-free towel and/or a heat gun, hairdryer, or steamer.
Preparing The Surface
A key point to remember when installing paint protection films is that your work area should be at 75 degrees temperature with minimal moisture in the air and as little wind as possible. It's not advisable for films to be installed during frigid temperatures or when it's raining.
Installers should wash the area of their car where the film will be installed with water as well as wash their hands to ensure it's free from oil or any kind of dirt. A clean surface is needed to ensure that the application will go smoothly and won't create bubbles.
An additional step car owners can take is to wax their paint's finish so that the film's removal in the future would be much easier — additionally, this step could protect the overall finish of the paint. Make sure that the wax has been buffed out evenly on the surface before proceeding to the following steps.
Applying The Film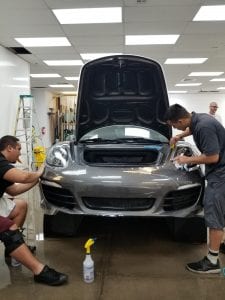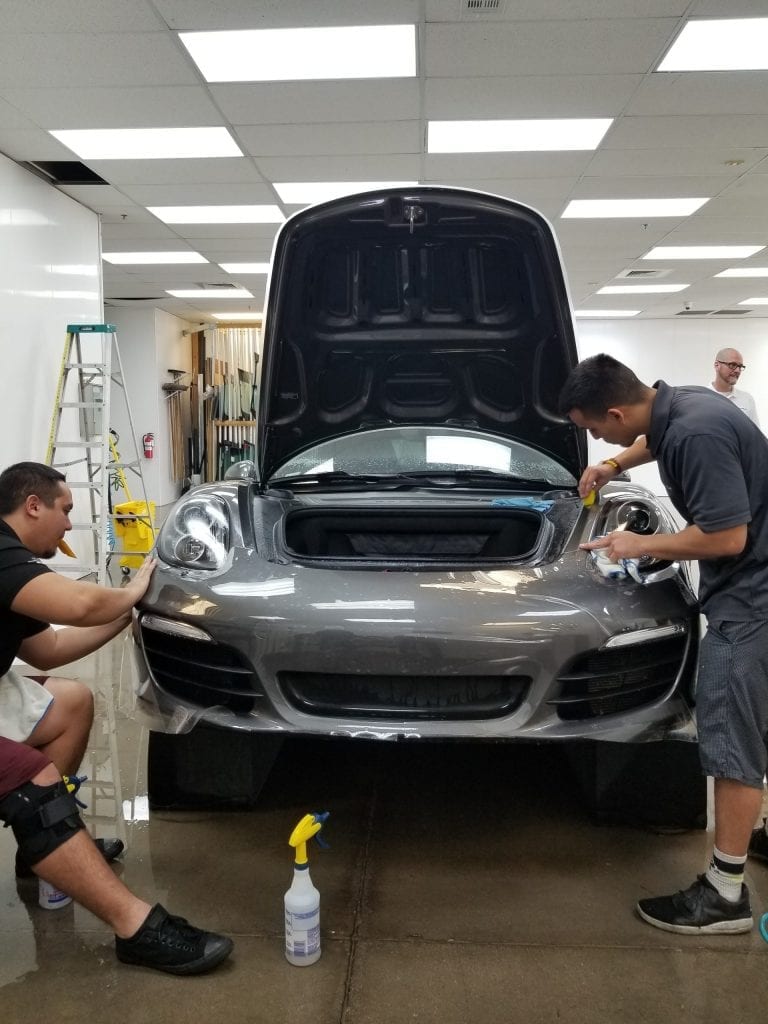 Afterwards, you can now prepare for your solution. Mix 99.5% water solution and .5% shampoo in the water bottle. Adding more shampoo to the solution before installing will not help the process — as a matter of fact, it might even cause problems to the films in the future if the solution becomes acidic. And to ensure that the shampoo you'll use does not have any fragrance in it, it's better to buy baby shampoo instead.
Once you've prepared every tool you'll be needing, you can start the process and spray your soap solution onto the surface of your car where the films will be applied. You must remember that you have to spray some on your hands as well to avoid disturbing the adhesive side of the film.
Right after this, you can start positioning it down to your car. Be careful not to let the films fold over or else the adhesive will stick to itself. One reminder, for areas that require large pieces like the edge of the hood, it's best to have some around that'll help you to handle the films.
Removing Bubbles
After the films has been placed on the car, it should be able to move freely. Should there be any areas that feel like they are sticking down to the car, just peel off its edge and spray more of your soap solution.
Afterwards, spray another layer of soap solution on the clear bra films. It will act as a lubricant as you remove the bubbles out with a squeegee. Once you feel comfortable with the placement of the paint protection film, you can go ahead and remove the bubbles with your squeegee! Remember to start in the middle and to press hard enough to remove all the water and moisture out.
Bubbles can easily affect the longevity of your film, so make sure that you remove every single one. If the squeegee trick didn't work on certain surfaces and there's still bubbles left, you can use a heat gun or a hairdryer to remove them.
Another key point to remember is to get rid of all the water between the paint and the films. This will help the film adhere safely and result in a clean finish. If any water or moisture stays, it could result in paint damage in the long run. Afterwards, you should allow the film to dry and depending on your climate, it might take a while. 
Aftercare Guide
Now, let's say that your application process was a success and your work looked great. How about the aftercare?
While it's safe to use your own soap solution during the application process, normal household cleaning agents are not delicate enough to be used for cleaning the films. Experts suggest using delicate car wash products, water, as well as a microfiber mitt or any other great alternative to it. If there are any soiled bug splatters during cleaning, soak the surface with water as well as your car wash soap and wipe it clean with your mitt.
Once you're done cleaning out the debris, you can now dry it with a microfiber towel and maybe spray on some polish if you have it.
Importance of clear bra on your hood and bumper
If you are wondering how to install a clear bra on the car properly, you should know that there exist two general categories of people when talking of cars. These include reactive and preventative individuals. Some people usually have decisions made on where to get their cars detailed even prior to purchase. Despite a number of people not knowing the benefits of having a new car detailed, it is usually very imperative and the preventive individuals will usually benefit. Various ways can be used and one such knowing why and how to install clear bra on your car.
Installing clear bra's initial step under this mode of protection is washing and waxing of the car. Some buffing can then be undertaken especially for cars having swirls. Subsequent too this, the clear bra films are applied to protect the delicate spots on the car. Dark-painted cars particularly require the transparent coat to guarantee proper paint protection from water damage and more.
The films usually protect vehicles against road particles, debris, or rocks, which may hit the paint when driving. The nicks developed can possible be prevented when using these protective options as it seals the paint from getting knocked off. Using clear bra films also comes with various benefits.
Clear bra installation's main benefit is protection. These materials function in a preventive manner against any chipping or scratching of car paint from hard substances. The coat of these films also prevent rusting that occurs on the metallic uncoated surfaces which seem hard to control rust. Additionally, the films will also prevent possible reactions between the car and other chemicals.
To DIY or Not to DIY Installation
Reading through the instructions above, it seems like installing is a pretty easy task but it's not. Should you get the installation wrong the first time, you might damage the paint job of your car! At worst, you'll have to pay for a removal service and another paint job.
So should you still install a clear bra all by yourself? Coming from a professional expert, we'd suggest not. While it may be true that you get to save more, one mistake could result in even bigger expenses.
Not convinced? Here are a few of the many advantages of professional installation! 
Expertise: There are about a hundred things you need to worry about when it comes to applying clear bra films. There are your local regulations and restrictions as well as the right techniques to ensure your protection films don't go to waste. But with experts by your side, all you need to worry about is the cost!
Guarantees: While a kit may offer you convenience, they don't often provide warranties that professional installation has. If anything goes wrong on your original installation, you'll have to repurchase that item and go through the painstaking process of reinstalling your films. When you work with a tint shop, not only do you get the guarantee that they'll get it right the first time, they'll also provide you with warranties in case anything bad happens to your clear bra films!
Investment-worthy: There's a common notion around professional tinting that more often than not, they're expensive. And because most people can't afford to shell out money, they end up downgrading to a kit. In reality, there are tint shops that offer cheaper solutions for clear bra application. Furthermore, installation is a complicated process that needs expertise in order for its durability to take effect. Any time films are mishandled, their quality decreases. That's why it's best that you spend your savings on something that's definitely an investment!
Great Customer Service: Another great thing about professional installation is the aftercare service. Like we've mentioned earlier, some tint shops offer warranties to your car after the service. But besides the aforementioned guarantee, their customer service team keeps their lines open for any questions around your films' aftercare!
Adds Value: When the films are maintained properly, the investment you've made on your vehicle will add more value to it! Professionally installed paint protection films add more to your car, besides maintaining its paint job. The more 'fresh' looking a vehicle is, the higher the selling price!
Fortunately enough, there are auto tinting companies offering cost-efficient services for drivers on a budget! Don't be afraid to shop around and compare pricing between providers. Paint protection films are great investments that produce long-term benefits! Chat with us and learn more about clear bras.