Protect Your Office Premises by Installing Our Security Window Films
With SmartFilm, you can step up the security game of your commercial establishment. We offer safety security window tinting film for business owners in Arizona. Adding our commercial security film to your window fortifies the strength of your glass, protecting your employees and clients from projectiles and violent weather.
How Our Security Tints Benefit Your Business
While glass is a popular material used in making office windows, it is highly fragile. Burglars usually gain unauthorized access to a business establishment by breaking through a window. Equipping glass windows with our shatter-safe commercial security window film is a simple and cost-effective way to boost the security of your premises.
Our commercial security window tint is both transparent and reflective. Intruders, in fact, won't even notice it. These films strengthen the glass by offering an additional layer of protection against hurled objects like rocks and baseballs, inclement weather, and blasts. On top of that, these tints slow down a burglar's forced entry attempts. It gives business owners adequate time to notify the authorities.
Our security film also prevents the glass from shattering into sharp, little pieces and scattering on the ground. If a major blast, for instance, hits the window, the entire glass section will fall to the floor. It minimizes the risk of injury and decreases cleanup time.
Choose SmartFilm as Your Commercial Window Film Installer
Our team goes the extra mile to provide you with a top-grade commercial security window film for your establishment. Look forward to these benefits when you pick us as your commercial window security tinting installer and supplier:
SmartFilm is happy to clarify any questions you may have about window tinting or our other auto services. You can contact us or check out our FAQs page.
SMARTFILM ARIZONA
Some Related Articles From Our Blog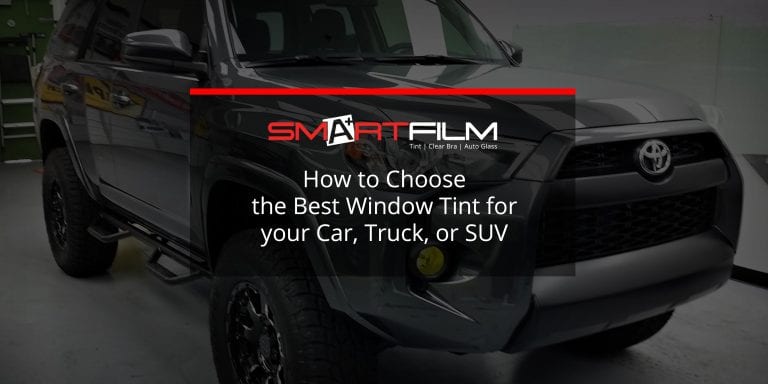 Car window tinting is a great way to keep unwanted sun and heat out of your car. And for Phoenix drivers, this can mean the difference between getting into a comfortable car…