Providing a Range of Residential Window Films
SmartFilm is a reliable house window tinting company that offers an array of window films for homes in Arizona. Our installation team works closely with customers to provide high-quality residential window tints tints that minimize glare and improve insulation and privacy.
SmartFilm has all you need to keep your home and vehicle windows safe and glare-free. We install residential window tints and films in homes across Arizona. Our selection includes solar window film, decorative window film, and security window film.
Our team has years of experience and training in installing residential window films. Plus, we use the best products and industry-leading tools for every job. Your newly tinted windows will provide privacy, insulation, and radiation protection for years to come. We do all this while keeping our prices competitive.
While we guarantee excellent results for your window tint, we're prepared to provide a refund in case our work doesn't satisfy you completely. We do assure you, however, that this is a rare thing in our business because we're 100% committed to customer satisfaction. Our 5-star rating on Yelp and A+ Business accreditation with the Better Business Bureau are proof of this.
Experience the privacy and protection of residential window tinting. Learn more about the benefits of our products here.
Count on us to install the following window tints on your residential property: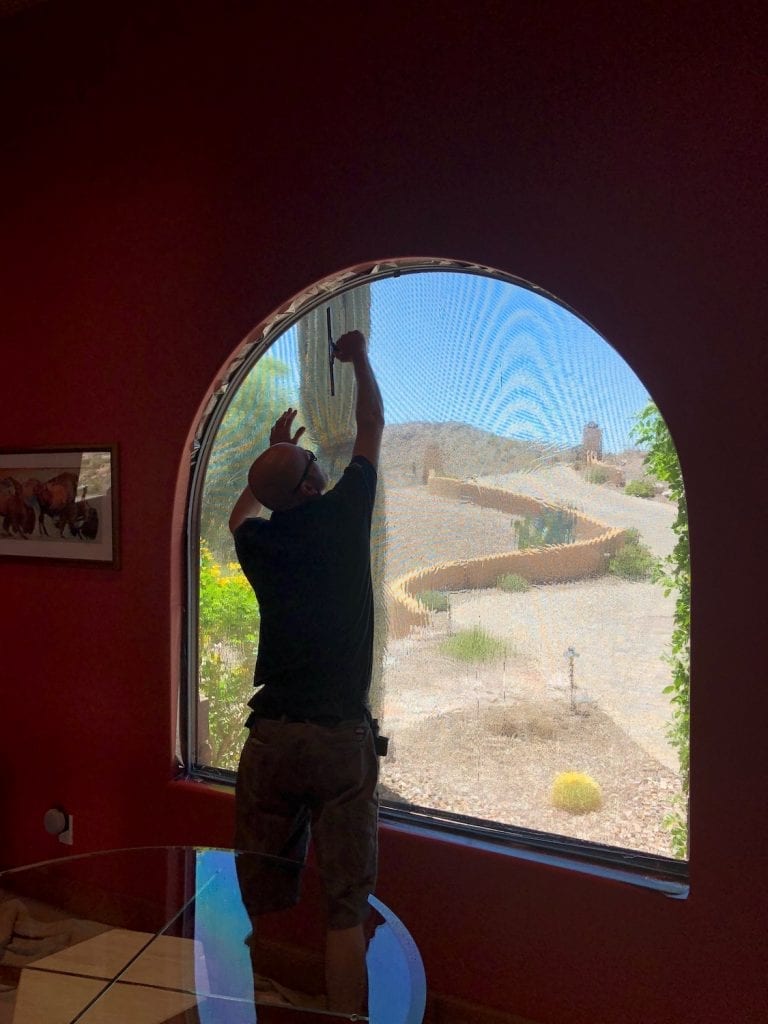 Solar Window Film
Natural sunlight brightens any room, but it also generates unwanted heat. Fitting your windows with a solar film helps block radiant and solar heat from entering the rooms while still allowing natural light in. Solar window tints let you enjoy less glare and lower energy bills, as well as improved insulation.
Get residential window film that protects you from the harsh rays of the sun. Call us today to request a quote.
Decorative Window Film
This type of window tint enhances the appearance and privacy of your home. Our product comes with the same privacy benefits found in traditional specialty glass — minus the expensive price tag. You may customize our decorative tints to fit your design vision and breathe life to dull windows and glass surfaces.
Add flair and privacy to your window by installing decorative residential window films. Call our office today to get a free quote.
Security Window Film
Conventional window security measures, such as shutters and bars, are unappealing. Our window tints are a more visually pleasing alternative. Apart from providing an unobstructed view of your surroundings, they come with anti-shatter properties that help keep the glass panes intact in case of accidents, inclement weather, and vandalism.
Make your windows more resilient by getting security home window films installed. Call our staff today to request a quote.
Why Install Our Window Tints for Your Home
Your house needs extra protection from Arizona's arid environment. Our window films go a long way in keeping your home in excellent condition. On top of protecting your furniture from harmful UV rays, our residential tints eliminate disruptive glare, improve the privacy of your interior, and provide an aesthetic touch to glass panes.
Get the security, privacy, and health benefits of residential window films. Call our headquarters today to request a quote.
Choose Quality. Choose the Professionals.
Choose SmartFilm Window Tinting in Mesa & Tempe.
Here at SmartFilm, customer service is our top priority. Our dedication to getting the job done right the first time has earned us an A+ rating from the Better Business Bureau. We aim to maintain this rating by keeping our team updated about the best practices in installing home window tints and providing them with the latest tools and materials for every job.
We serve customers in Mesa & Tempe, Arizona, and its surrounding areas. Call us at (480) 907-7200 or visit our website today to set an appointment and learn more about home window film installation.
SMARTFILM ARIZONA
Best service in Arizona. We do everything for our customers.