Tesla Clear Bra: Why it is No Longer Just a Regular Car Accessory
You've gone to great lengths to find the best car to travel around the Phoenix metro area. And nothing does the job better than your new Tesla model. Tesla owners are usually very proud of the quality of their car. But like all cars, your Tesla starts losing value the moment you drive it off the lot.
Luckily, there are ways you can preserve your car's value and the most long-lasting thing you can do is install a clear bra on your Tesla model. Here's how a clear bra on your car can help.
What is a Tesla clear bra?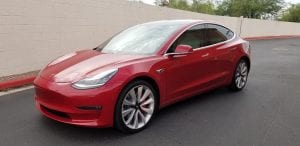 The clear bra is a paint protection film that is almost invisible and extremely durable urethane film. The installation process of a paint protection film on a Tesla resembles quite well the window tinting process. It is long-lasting and usually installed on high-impact zones of a vehicle (hood, bumper, mirrors or door edges). A paint protection film is just a normal clear bra installed on Tesla Model ars.
It is meant to offer protection for a car's paint against conditions that might occur on the road, such as stones, sand, debris or even bugs. If it is professionally installed, there are a multitude of benefits that arise from using a clear bra on a Tesla.
Of course, our paint protection experts have a more detailed explanation of what a clear bra is. Our professional team are authorized installers. We will install a clear bra on your Tesla fast and efficient. It also doesn't matter what Tesla model you have!
Also, note that ceramic coating isn't the same as clear bras.
Prevents Fading
Your car is exposed to harsh UV rays every time you take it out on the road. And believe it or not, your car's paint is a lot like your skin—it can get damaged by too much sun. In most cases, this results in color fade and bubbling of the clear coat.
Once you notice a change in the paint, the damage is done and you're in for some costly repairs. With a clear bra on your Tesla model, you'll have an extra layer of protection between the sun and your car's paint job. The film will take the brunt of the damage, leaving your paint in good condition for years to come.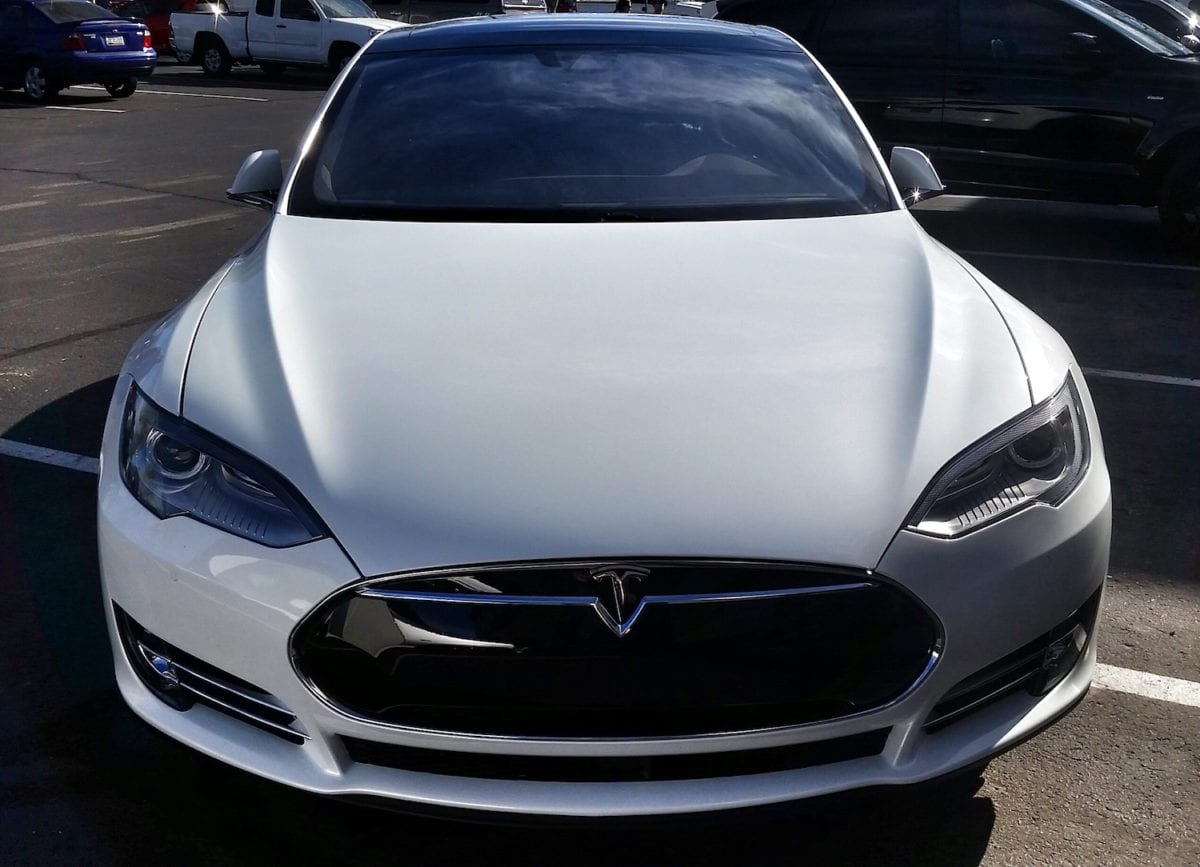 Protects Against Insect Spots
Bugs are a huge problem in Arizona. Even in the summer, you'll see tons of bugs on your windshield and the nose of your car. If you clean them off immediately, they can't do much damage. But if you let them sit, even for a few hours, those bugs can start to eat through your clear coat and into the base layer of paint.
Look, no one wants to check their side mirrors and see sticky bug residue. It is not just about the aesthetic coating look of your hood, fenders, and bumper. It is also about functionality and how it protects you and your Tesla Model 3 from potential road accidents.
And the hotter it gets, the faster the damage happens. Installing a paint protection film on your Tesla model, those bugs won't hurt your paint. As an added bonus, they'll be easier to wash off when you have time on your day off.
Reduces Risk of Scratches
Body damage of any kind can cause your car's value to drop by hundreds of dollars in no time flat. Even minor scratches can rust and do serious damage to your car.
Installing a self-healing clear bra on your Tesla Model 3 reduces the risk of scratches. Instead of hitting the paint, the damage gets absorbed by the paint protection film first. If you're ready to trade your car in, just remove the clear bra on your Tesla Model 3 before going to the dealership.
Prevents chowing
Mostly, cars get damaged when exposed to specific paint chemicals found on the road such as salt. This will interact with the paint and the finish of the vehicle, leading to chowing or even rust. Using clear bra on a Tesla will prevent rust from occurring, while road chemicals will be kept at bay. A protective paint layer such as Xpel Ultimate is great for keeping your car's appearance exquisite.
It does not require professional maintenance
Opting for maintaining the value of your quality Tesla does not necessary mean you will have to invest a lot of money and time in the maintenance of the protection. A bra paint protection film requires low maintenance.
Being water resistant, it assures the user it won't peel or fade away. Simply put, if some buildup, rock chips, or dirt occurs, it can be removed with mild detergent and warm water.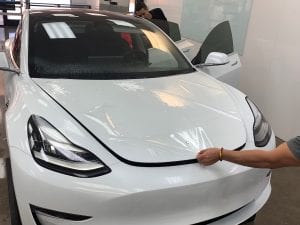 It is easy to replace
If the paint protection film goes through any type of damage, it is easy to remove, without damaging the car paint underneath it. The qualitative materials from which the protection is made, will protect and preserve your car paint for extended periods of time.
Being so easy to replace, will keep up the value of your Tesla. When you will seek to sell your car, the potential buyers will first analyze the condition of the paint. Thus, using clear bra for your car will ensure you keep its market value up.
Long-term protection for your Tesla Model Car
Clear bra represents the long-term protection for your Tesla`s paint. Most of the manufacturers of this protective film provide up to 10 years of warranty (also on Tesla vehicles). This signifies that you are entirely protected against damages for 10 years and you will not have to consider replacement any time soon.
Ultimately, who does not like having an impeccable car? Maintaining the value of your Tesla with clear bra is more than easy today, as you will benefit from its effects for an extended period of time, preserving your car's appearance.
Conclusion: Smartphones Need Cases, Tesla Cars Need Clear Bra
Tesla maintenance is of the utmost importance. Tesla is a luxurious electric car developed by Elon Musk. Even the cheapest Tesla priced car still costs $35,000. It's crucial you maintain your Tesla with a clear bra so it will last longer.
Even though this paint protection film for your Tesla Model 3 is not a cheap item, those who installed it on their cars observed that their car maintenance costs were diminished significantly. Mainly, this happened because paint or bodywork requirements were almost nonexistent. Most people mistakenly believe that these services and technology are meant for those that own luxurious cars. Yet the reality is it represents a warranty protection item that will protect and maintain your exterior, from bumper to side mirrors, to your hood, and fenders look like new.
Don't wait for your Tesla Model 3 to get scratches from unexpected rock chips, and even dust on the road, get your vehicle over for installation today. For more information about the services and package that we offer, give us a call and let's talk about the areas of your vehicle that needs self-healing paint protection film.