What Are The Best Mercedes Tint Options And How Much Does Mercedes Benz Window Tint Cost in AZ
Getting your car's windows tinted with a high-quality window tinting film is one of the best things you can do in Arizona. But for many people, the thought of investing in a window tinting job can be daunting at best, especially if they're not sure how much it's going to cost. The best way to do it is with a high-quality Mercedes window tinting film from your local AZ shop. We're not going to lie—there are dozens of brands and types of film protection to choose from. But since you want the best, we're here to help. These are some of the top options to consider if you're thinking of window tinting your Mercedes.
How Much Does Car Window Tinting Installation Cost in AZ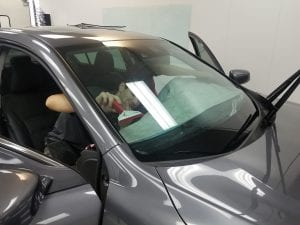 If you're wondering how much Mercedes Benz window tint in AZ costs before deciding whether it's worth the investment, you're not alone. But every window tint kit job is unique. Here's what you need to know.
It Comes Down to the Number of Windows
It should come as no surprise that cars with more (side) windows will cost more to tint. This is because the film has to be cut, shaped, and applied to each piece of glass individually. The more you have, the longer the job will take and the more film protection your installation pro will use. The best way to determine your Mercedes Benz window tint cost is to get a quote from a local tint shop in Arizona.
The Type of Film Installation Matters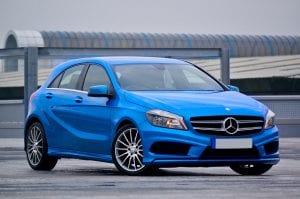 Believe it or not, window tint film from different manufacturers is not all the same. In fact, some are incredibly low-quality and will need to be replaced relatively soon after you have them installed. With regards to Mercedes Benz window tint cost, you get what you pay for. Without a doubt, you want a quality window tint kit to protect your Mercedes from the Arizona heat and damage.
The higher quality window tint kit or film will last much longer and perform much better, but it will cost more.
Our Mercedes window tint kit solutions aid you in protecting your most important investment. We use the general four types of protective films: dyed, metallized, carbon and ceramic, all of which come with distinct features, properties and pricing. Depending on your chosen Arizona tint provider, these costs may vary.
There are different types of car window tint available in the Arizona market. Our top choice is, as you might guess, the ceramic window tint for Mercedes Benz. This is essentially the highest quality film you can buy for your car in Arizona. This happens due to the fact that it is made from ceramic particles instead of dye, metal or carbon.
Even though it might seem a bit pricey, this material can diminish up to 50 percent of solar heat from entering your car, while being extremely durable and resistant to either glare or fading. It was proved that installing a ceramic window film on a Mercedes Benz car can diminish UV rays by up to 99 percent.
You Pay for Expertise not just for Appearance, Style, and Protection
Yes, strictly speaking, you would pay less to install the window film on your own. All you'd have to do is pay for the film itself and sacrifice a bit of your free time. But doing so is not in your budget's best interest. Unless you have the window tinting kit film installed by a professional, the manufacturer's guarantee may not be valid. Furthermore, DIY tinting can cause costly mistakes that could still lead you to an AZ tint shop.
You'll have to pay more for window tinting removal and installation.
And it's far more likely that the film will start to peel and bubble if you DIY the project.
By leaving it to an experienced professional, you'll get the full value of the manufacturer's warranty and won't have to worry about premature damage to the film forcing you to replace it sooner than you should. There are also some tint laws you need to be aware of.
Why is it to your advantage to hire a Mercedes Benz Window Tint Professional in Arizona?
As mentioned above, installing a Mercedes Benz window film can be done at home, too, yet the risk of installing it wrong and damaging your vehicle's appearance is rather high. This is why we recommend you opt for the services of a professional Mercedes Benz tint specialist from Arizona, who will be able to install the window tint kit or film properly in such a manner that will offer all its benefits for a long period of time.
And if you are wondering what makes a window tinting kit specialist so special, here is a list of the required qualifications for becoming a tinted window professional:
       He will know all the specifications of the window tinting and will focus on installing it accordingly to your Mercedes Benz model;
       He will make sure the vehicle is clean and kept clean during the tinting process. This is especially important due to the fact that any small particle of dust can compromise the entire tint job;
       In addition, preparation is an important step, as the tint window professional will have to thoroughly clean and remove any type of adhesive items present on your vehicle;
       A window tint professional will follow the correct steps towards proper tint application, which in the end will allow you to enjoy the vehicle window tinting benefits for an extended period of time;
       He will return your vehicle in proper conditions, with a focus on keeping your Mercedes Benz in the same state it came in in our shop. We guarantee you won't see any signs related to the tint job, just the nicely applied window tint kit.
Save Money with SmartFilm
At SmartFilm, we're proud to offer window tinting at affordable prices to drivers across Arizona. Contact us today for a free quote and find out your Mercedes Benz window tint cost right from the source. We answer all your queries and request with detailed information and professionalism about our products.
SmartFilm serves the Arizona communities of Mesa, Gilbert, Phoenix, Chandler, and Scottsdale with all their tinting needs.