10 Facts on Clear Bra For Cars: What Arizona Drivers Should Know About Clear Bra Film on Their Cars
For drivers and car owners around the United States, keeping their vehicle's paint job in good shape is always a priority. The smallest scratch or dent can quickly rust, doing long-term damage to the vehicle and its appearance. Hence, the huge demand for a self-healing clear bra in Arizona.
Paint protection film installation is one of the most common ways drivers can protect their vehicles. Clear bras or paint protection films are urethane films that serve as a barrier between hazardous materials — such as rock chips, road debris, bird droppings as well as UV rays—and the paint finish of a vehicle. A paint protection film preserves your vehicle's paint job and keeps it looking fresh for years to come; this protective film shields your vehicle's paint from rock chips, road debris, and even scratches and yellowing.
New drivers may be unfamiliar with this mobile modification but for drivers in Arizona—albeit everywhere—it's a pretty normal practice. And if you're one of those new vehicle owners wondering what's the real purpose of clear bras or a paint protection film, it can be pretty confusing.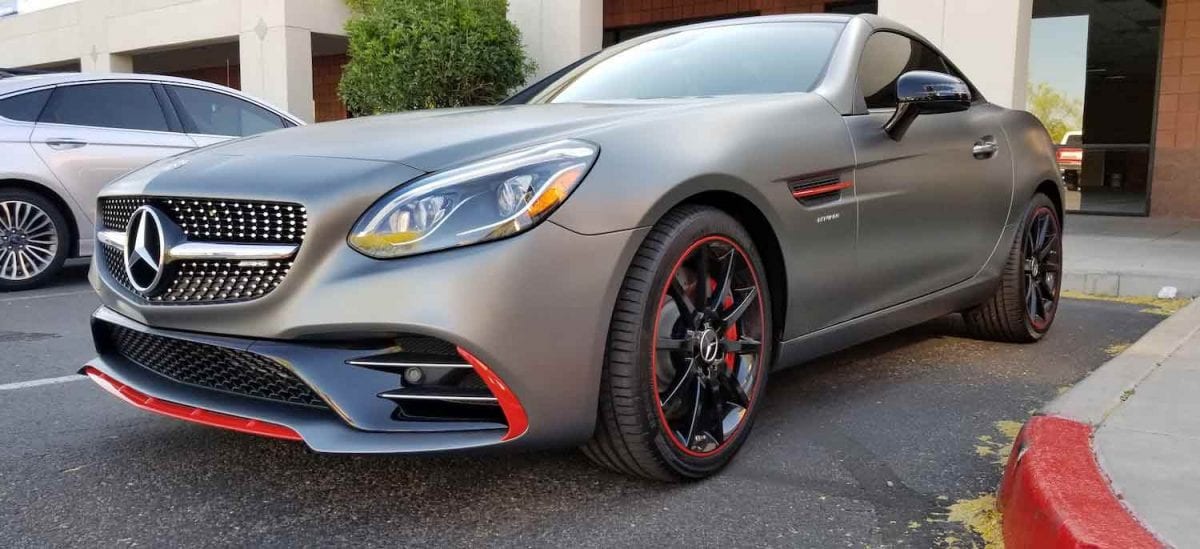 What Are Paint Protection Films?
A clear bra or a paint protection film is a transparent layer installed on the bonnets, bumpers, side skirts, and other similar surfaces of your vehicle. The transparent film is made to protect your car from damages like debris, scratches, bugs, and other damaging particles from the Arizona desert that could damage your car's precious paint.
They are often made from thermoplastic urethane film material that has self-healing properties. Additionally, the material is naturally resistant against acid and other corrosive contaminants often found on bug splatter as well as bird droppings. Depending on your chosen Arizona provider, these transparent films in different colors and thickness.
Ultimately, if you want to protect your film from oxidization caused by the harmful Arizona sun, this clear coat is the perfect solution! Learn more about paint protection film and how it keeps your vehicle looking like a new car through these eight facts!
10 Facts That Arizona Drivers Should Know
The protective film has been in the market for a while now, but only car enthusiasts seem to be familiar with them. So, to help fellow Arizona drivers out, Smartfilm has listed down ten facts they should know about!
1. Initially created for military parts
During the gulf war, the rotor blades and other parts of military helicopters often get damaged from minor debris. So, in hopes of avoiding these incidents, they looked for a solution and developed paint protection films! Later on, the automotive industry adopted the same concept and started using the clear coat to protect vehicles from damage caused by bug splatter.
2. Clear bra on cars and a protective film help you with vehicle maintenance
Invisible paint protection films reduce the amount of cleaning and care you need to do to your vehicle, though it won't eliminate it entirely. As a matter of fact, without maintenance, the paint protection film can peel, bubble, or yellowing.
Admittedly, maintenance on paint protection films for vehicles is relatively simple. Just wash it, wax it, and monitor it for any signs of damage. Should you see any, make an appointment with your paint protection film installation specialist and have it fixed.
Taking proper care for paint protection films or ppf is vital for optimizing its performance and looks. By following proper cleaning and caring techniques, you can extend the lifespan of the paint protection film. Even though it reduces the amount of effort necessary, it's best to take great care of your vehicle and the paint protection film installed. Make sure you get a professional installer that grants warranty and quality protective products.
3. Paint protection film installation is done by professional bra installers of the industry
Installing any type of paint protection film or clear bra takes training and experience, just like window tinting. Should it not be properly measured, the protection film won't sit flush against your vehicle's contour lines.
While it may be true that it is possible to install the film on your own, it's best to find professional car bra installation in Arizona for the application of the protection film on your vehicle. Luckily, there are several car bra providers like Smartfilm.
SmartFilm services Arizona areas, Phoenix, Mesa, Gilbert, Chandler and Scottsdale. Our protective film installation experts ensure that our products and our services protect the paint of your vehicle greatly.
4. Car bra material is designed to last
Despite this, protection films and ceramic coating are not permanent. Most films are expected to last for about five years before it breaks down, exposing your car's paint finish to harmful ultraviolet light.
If the paint protection film on your vehicle has been applied for a few years, it's best to get a consultation with your installation expert to see how much life it has left. Should they recommend having the protection film removed, don't be afraid to do so. Leaving it on could cause further damage to the paint finish of your vehicle.
5. Not all clear bra products are all quality film materials
Believe it or not, all clear bras and other paint protection films are not of the same quality—the more expensive films, the more wide variety of protection. For instance, a ceramic coating may cost more as it uses chemicals to protect the paint job of your vehicle. Another key point to keep in mind is the brand of the protection film. For example, 3M's Paint Protection Film may have a more expensive price tag in comparison to XPEL Paint Protection.
Though the upfront cost may be higher, there's a guarantee that the film will protect your vehicle for a long time. Self-healing paint protection films are a great investment in comparison to the $2,000 cost you'll have to endure for a brand new full front paint job. Furthermore, most clear bra installations in Arizona come with a yearly product warranty that assures you they're here to help no matter what.
6. An installed clear bra paint protection film should be virtually invisible
The clear bra films are designed in such a way that the paint job of the vehicle speaks for itself. The car bra shouldn't be visible unless you get up close with the vehicle. For example, drivers that see the film on their rocker panels probably didn't install it properly.
With this in mind, it's best for new Arizona drivers to get the clear bra paint protection film professionally installed.
7. Petroleum-based wax shouldn't be used on them
To help improve the life expectancy of your clear bra, you should avoid using any sort of cleaning products that have petroleum in them. The material can weaken the film and often leads to the yellowing of certain surfaces. If you hope to make the most out of your investment and protect your new car from bug splatter, it's best you take good care of them. Be wary of cleaning products that have petroleum in them and make sure to read the labels before using them.
8. Not a spray product
There's a common misconception around clear bras that they're a spray product that can be used to like paint. In reality, a clear bra is similar to a window tinting film that needs to be installed precisely to guarantee the best results.
9. There are different warranties
Similar to window tinting film, paint protection films have varying warranties depending on your chosen product. But on average, most PPF has warranties that range from five to ten years. The said guarantee covers only manufacturing defects. The warranty of the installation depends on your chosen Arizona installers.
10. Limited alternatives
If you find paint protection films too expensive, there's not much alternative out there for you. If you value your vehicle's paint job and want to keep it looking fresh, then the clear coat is the best option for you. Paint protection films are considered a must for regions like Arizona that has harsh driving environments. The heat and the dessert alone can exhaust the look of your vehicle in a few years. So, to keep your vehicle nice and clean, it's best that you invest in PPF!
Clear bra protection film solution in Arizona
Ready to get one for your vehicle? Contact us today to schedule a consultation and get a free estimate and amazing warranty deals!