Can Street Smart Window Tinting on Cars Prevent Break Ins?
According to the Smartfilm AZ team, street smart window tinting is becoming more and more important. No one ever expects that they'll be the victim of a car crime. But the unfortunate fact is that car theft and vandalism are things that do happen.
In 2016, there were over 13,000 incidents of car theft in the Phoenix metro. Even in neighborhoods with low crime rates, car theft remains a threat. Preventing break-ins is crucial today.
Fortunately, there are steps drivers can take to prevent break-ins. One option is installing security window tint. While most people think of window film for its sun control benefits, it's actually a great way to prevent car crime.
Security window tinting for cars can help prevent theft and vandalism and protect drivers. In the next section, we will provide some advice on how you can prevent car theft.
Tips for Preventing Car Crime
No matter where you live or park your car, it's important to take steps to keep your vehicle safe. Car theft happens even in wealthy neighborhoods during the middle of the day. Car thieves will break the glass of your car window if they have a chance. Here are some steps you can take to reduce your chances of being a victim:
Keep valuable items out of sight.
Park beneath street lights or in a well-lit garage at night (a dark parking lot is usually not a good idea).
Always lock your doors and roll up the windows.
Install a steering wheel lock.
Don't leave your car unattended when it's running.
And last but not least, you can install window security tinting on the outside of the car windows. This safety film will make it harder for car thieves to break a window.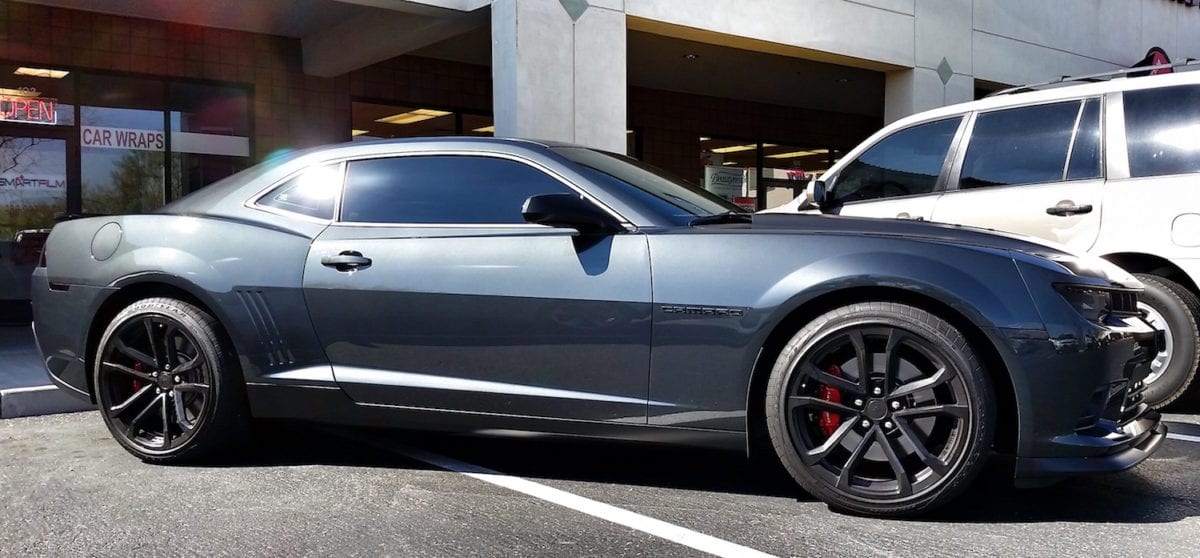 Does Security Window Tinting on Cars Actually Work?
Installing window tinting on cars isn't a foolproof method for preventing auto theft and vandalism, but it does help. Of course, you have to do your part to protect your car, which includes doing things like locking your doors and taking the keys out of the ignition.
But installing window tinting on cars may also help reduce the chances of theft. Be smart about these things, and decrease your chances of somebody breaking in your car. Security Window Tinting for cars can help a lot. Of course, nothing is 100% secure and thieves get smarter and smarter every day.
Automotive window films that are designed for security undergo rigorous testing. Their whole purpose is to prevent the windshield and car windows from shattering. If someone tries to break into your car by smashing the window, the security window film could stop them from doing so, or at the very least, delay their attempts long enough for the cops to show up.
Furthermore, there are other great benefits of installing tint on the outside of the car windows. One of them is that car window tint can prevent injury during an accident. During an accident, your windshield is your first line of defense, but installing car window tint could increase its flexibility and shatter-resistance. If the windshield does break, the film will hold all of the little broken glass pieces in place so you and your loved ones won't get cut or injured.
Benefits of Using Smart Window Tinting
Even though people usually consider car window tinting a measure of boosting the aesthetic appearance of the car, the entire process of street-smart window tinting comes with a multitude of additional benefits, including:
Increased privacy and safety
As we mentioned above, car window tinting applied on cars can prevent break-ins from happening. This happens because the tint makes it harder to observe the items in your car. Besides this, tinted window cars offer a boost in privacy, as a passerby cannot see you inside the car.
Protection against UV rays and solar heat
Another important benefit that derives from using smart window tinting is the fact that it protects the car from solar heat and UV rays damage. A car window film is able to prevent up to 99% of the sun's harmful rays, offering protection while you are driving. Keep in mind that if you drive in direct sunlight, you are prone to sunburns.
Also, by protecting the car from solar heat, window tinting film can diminish additional damage that might occur to the interior of your car.
Smart window tinting and break-ins protection
We truly consider this to be the best aspect of installing window tint on your car. This protective film comes with shatter protection, which mainly signifies it will prevent the glass from shattering in the event of an accident. This will make it harder for burglars to break-in, as the tinting film will hold together the shattered glass.
We've written a full overview of why you should tint your car windows here. Definitely read that article if you are interested to find more reasons. Security window tinting might be one of the best investments you can make for your car.
Car Theft Statistics in Arizona
Arizona ranks 8th in the USA for overall vehicle thefts! A security window tinting film is definitely a necessity in Arizona. The stolen vehicles are often being used for drug and human smuggling. So it's not so much about the valuables in your, but rather having a way of transporting illegal goods.
Arizona borders to Mexico and could be a reason why there is so much smuggling going on. Car theft is likely correlated with the drug and human trafficking across the Mexican border. This costs the state of Arizona $86 million in economic losses, according to reports from the Arizona Automobile Theft Authority.
Smart Window Tinting is even more important in Arizona than we initially thought. We can conclude that the safety and security window films provide are second to none. Read the full article here.
---
Get More Information
With window tinting on your car, it is much harder for anyone outside to observe the interior of the car. This will make the criminals less likely to break into your car, as the dark film won't allow them to analyze the valuables inside.
Yet it is always best to remember to remove valuable items when you leave your car as an extra safety measure. Still, tinted windows is the best solution to avoid break-ins. We would highly recommend it.
Curious to know more about the safety benefits of window tinting on cars? We'd be happy to provide you with more information! Call today to speak to an expert about window tinting options for your vehicle.