Car Window Protection for the Winter: Why Invest in it?
[vc_row][vc_column][vc_column_text]
As winter draws nearer, our team at Smartfilm is getting ready for the colder season. Winter driving conditions can really take a toll on the body of a vehicle, which is why the most common recommendation that we make during this time of year for drivers in Mesa is paint protection film. If you haven't thought about paint protection film before, it's definitely something you should consider looking into. 
Below, we've listed our top reasons why paint protection film can prove to be a valuable investment for the winter driving season. A winter window film has a lot of benefits as you'll start to realize.
Clear bra protects your car from loose gravel and asphalt.
During the winter, the roads in Arizona begin to degrade due to the large amounts of rainfall that occur earlier in the year throughout the monsoon season. Water weakens road surfaces and causes them to crack. 
As the drivers in front of you pass over these damaged surfaces, the pressure from their car can cause the asphalt to come loose and be kicked up by their wheels, sending it flying in your direction. Clear bra protects your paint from being chipped by loose asphalt, rocks, and flying debris. Car window protection is very important, even more so in the winter. 
Paint protection film is easier to clean.
From November to March, storm systems from the Pacific Ocean sweep across the state of Arizona. While these storms mainly account for the snowfall in Northern AZ, it's not uncommon for them to hit the valley. In fact, there are some years when snow can be sighted on the Superstition Mountains, which are visible from Mesa. Paint protection film offers a way to keep your car free of rain spots and also makes it easier to clean off dust, dirt, and road salt.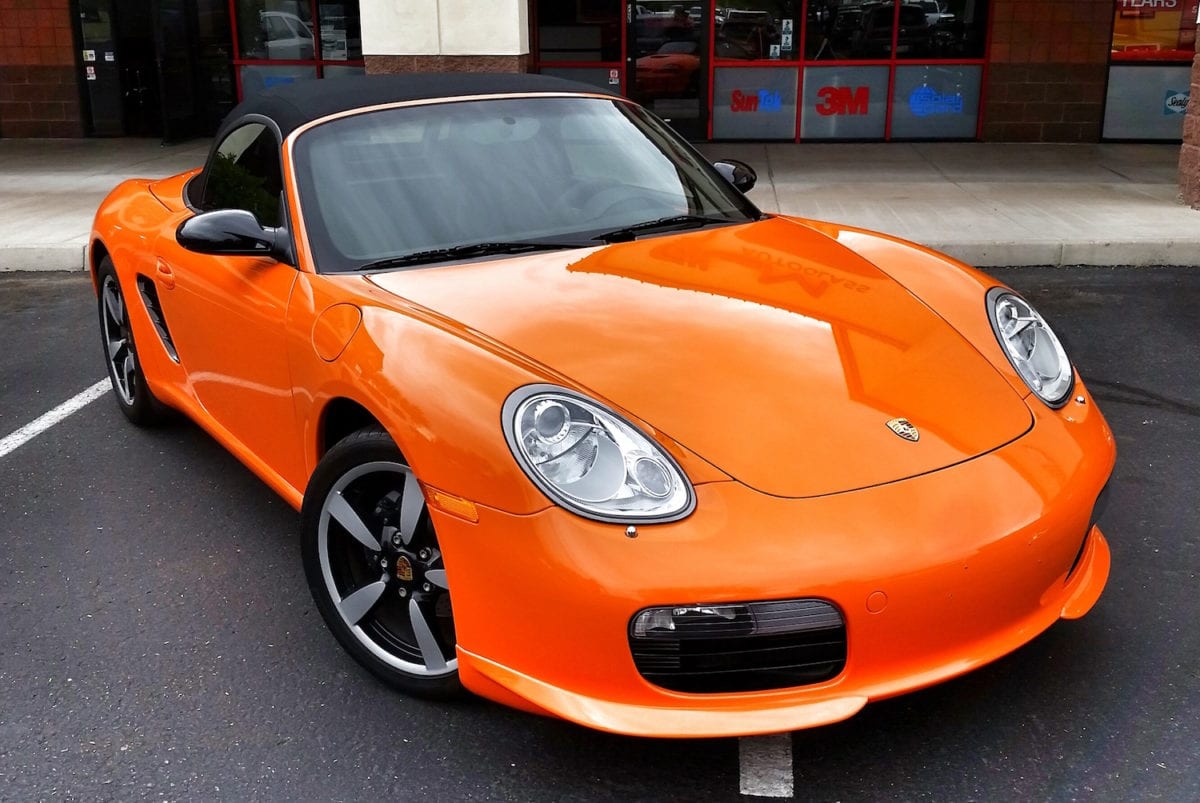 Protection Film shields the car against hazards associated with winter cleanup
After snow falls and cold temperatures become a daily thing, road trucks can instantly damage the road. This happens because they are meant to protect the roads with a significant amount of salt and sand, meant to ease the melting process of both snow and ice.
With the best paint protection film, you can prevent salt or sand damage on a vehicle's exterior. If this is not cleaned properly, it can stick in hidden areas of your automobile and slowly damage the paint. Therefore, if you want to keep your car safe and shielded against such damage, it might be a great idea to invest in paint protection film for the winter. You can never be too sure about car window protection.
A car window film protects the car in case of incidents
Winter is that time of the year when small road accidents happen more frequently. Because of icy roads or lack of driving experience during winter, some drivers might cause small winter incidents. Getting a ding on your car is possible during winter, which is why a paint protection film is a must have during the cold season.
In winter, parking incidents happen on a daily basis. So, make sure you are prepared for such a situation with this protective layer for your car.
Paint protection is less expensive than a new paint job.
Arizona weather, while mild during the spring, can be treacherous during the remainder of the year. It's not uncommon for drivers in Mesa to encounter high speed winds, dust storms, and flooding. Not to mention, there's also the potential for an encounter with a tumbleweed or fallen tree branch. 
Paint protection film keeps your car safe from these hazards, saving you money on what would otherwise be an expensive repair. While a high quality paint job is likely to cost anywhere from $3,500 to $10,000, paint protection film costs only a fraction of the price.
Paint Protection film protects the value of your vehicle
When you take special care of the paint on your car, especially in the cold season, you are able to preserve its market value. Keeping your vehicle in good shape is necessary when you decide to sell the car. Even if you don't consider selling the car, it's always best to protect your car against snow and debris. When the time comes to sell it, all you have to do is remove the protective film. 
Using Quality Paint Protection Film Has a Warranty
A qualitative and professional paint protection film always has a warranty. This will reassure you it has the features necessary to face harsh weather conditions. Depending on the type of film you opt for, the warranty can range from a couple of years to several years of coverage. Also, all protection film warranties are offered by the film's manufacturer, meaning it has nationwide coverage.
Get Your Vehicle Ready for Winter in Mesa with Paint Protection Film
Always remember that a paint protection film represents a long term investment, and can protect your car the entire year. It is especially beneficial for the winter season, when the roads get a bit challenging. 
You can shield your vehicle today against bugs, gravel, sand, and a lot more. But don't forget that you will need the help of a professional to install window tint correctly. Even though it is not a complicated task, applying paint protection film on a vehicle requires a lot of attention to details.
Get the protection your vehicle needs for safe winter driving. Call Smartfilm in Mesa to have paint protection film installed for your car today!
[/vc_column_text][/vc_column][/vc_row]