Windshield Sun Shade Vs Window Tint: Which is Better
For drivers in hotter parts of the country, keeping their vehicles cool is one of the dilemmas they face on a daily basis.
While parking in a carport or a garage is one of the easiest answers for this, it's not really an option that's always available for them. Furthermore, drivers are not just avoiding heated interiors alone.
Harmful UV rays can result in several problems like damaged interior and skin damage. If you don't protect yourself from harmful UV rays, fading may happen to your interior and your family may be at higher risk of skin cancer.
With this in mind, drivers look for the best ways they can protect their cars from sun damage while keeping their vehicles cool. And one of the most common options is car windshield sunshade and auto window tinting!
Looking into it, it's understandable for relatively newer car owners to feel torn between the two — after all, both are used for the same purpose, blocking the sun. Each one has its respective advantages and disadvantages, it's only a matter of determining which works best.
Differentiating Windshield Sun Shade & Window Tint
Before we dive further into their respective pros and cons, let's first differentiate these two options.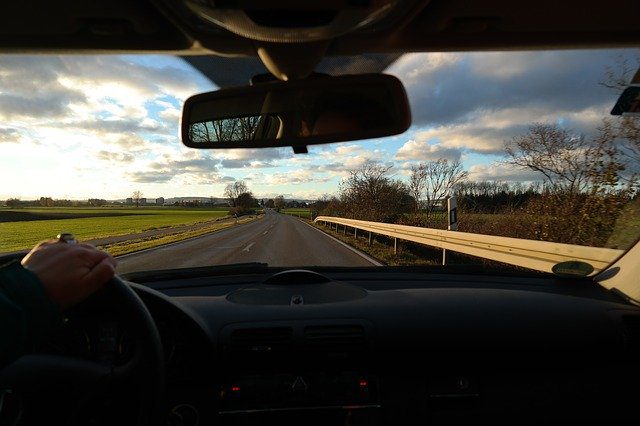 Sun Shades
Windshield sun shades are removable screens that cover the inside of your windshield when the vehicle is parked. They block almost 100 percent of the sun's light from coming through the largest window in your car.
The windshield sunshade keeps vehicles cool and reduces the risk of faded upholstery using its reflective surface that bounces back the light that penetrates through the glass. Additionally, sun shields are easy to install and purchase but as its name suggests, their use is limited to windshields only.
For instance, those who want to cover all the side windows of their vehicles will have a hard time looking for sun shields custom fit to their car.
Commercial Window Tinting
Unlike its counterpart, auto window tinting is an all-around solution. It's the process of applying a thin laminated and high-quality film to the interior of cars in order to reduce the amount of heat and radiation that enters a vehicle.
These films can block up to 77% of the light depending on their window tint percentage and the material used. And though it can be successfully installed in all windows of a vehicle, there are certain regulations for each state.
Between Windshield Sun Shade And Window Tints
One notable difference between the two options is the manner in which they are applied. While windshield sunshade can easily be successfully installed and removed, window tints often require professional installation.
This is because window tinting uses a much stronger adhesive in comparison to windshield sunshade. Once installed, removing them would require a whole other process — hence, it should be applied seamlessly.
Additionally, it is meant to provide coveted shade to drivers while driving, unlike sun shields.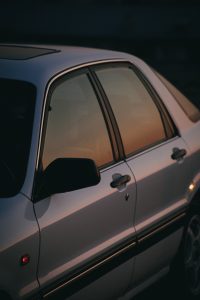 Admittedly, easy installation is a great advantage for windshield sunshade but at the same time, it's a great disadvantage as it exposes drivers to harmful UV rays while driving. Should owners need a sun shield during driving, they won't be of much help.
Another key point to keep in mind is the wide variety of choices each option offers. A car owner can choose between several types of high-quality film, depending on their needs. For instance, those who want to increase the privacy of their cars can use dyed window films while those who want tints that aren't too dark can use hybrid films.
Furthermore, professionally installed window tints come with high-quality customer service! Should anything go wrong, customers will be able to get in touch with professional installers that can help them with their tints — a feature that not every best windshield sunshade.
Arizona drivers often ask if it's possible for them to choose both the best auto windshield sunshade they can find and window tinting — our answer?
Definitely! There's nothing wrong with taking one step further into protection! You can still use sun shields despite having window tinting.
Getting Your Vehicle Tinted
So you've finally decided to get your car tinted! The question then becomes how will you install a window tint on your car?
The demand for window tinting rose over the years and as a result, the industry created precut films or tint kits that allow drivers to tint their cars on their own. This doesn't just save them time, it also saves them more money with its affordable price tag. But this manner of tinting poses the question of whether it's really worth it.
Admittedly, you will save money in terms of upfront costs but should anything bad happen to your DIY project, you're likely to spend more on removal and reinstallation.
Hence, it's best to get them professionally installed. While it may be true that the cost can be pretty demanding, window tinting comes with great benefits that ensure it's worthy of your investment!
The Right Tints
As mentioned earlier, there are varying regulations on window tinting. If drivers tint their cars without the proper knowledge of window tinting laws, they may end up with films that are actually illegal in their state.
Luckily, professional installation teams keep themselves updated with the latest tinting regulations in their respective localities. You're ensured they're doing right by the law!
Proper Techniques
Though it may seem like auto window tinting is a pretty easy process, it actually requires careful precision to ensure correct adhesion and longevity. It's a delicate process — even the slightest breeze can create creases that affect its effectiveness! The effectiveness and durability of your window tint heavily relies on maintaining precision installation.
Due to the increasing demand for getting your windows tinted, drivers can now purchase a window tint and install them on their own residential homes. They no longer have to an automobile shop to get the job done. The car owner themselves can install the window tint.
The only problem is that while DIY window tinting can definitely help you save more from expensive tinting services, but like we've mentioned earlier, improper installation could lead to you spending more on other services like window tint removal.
Commercial window tint companies have great teams of experts knowledgeable enough to get the job done the first time. Tinting experts are trained to follow proper procedures, use the right tools and ensure quality. Avoid the frustration and wasted time by hiring experts!
One way that you could determine the price that you'll have to pay for your services is by looking for commercial businesses that offer a free quote. You can contact them and ask about their services to figure out whether it fits your budget or not.
Guarantees 
As mentioned earlier, professionally installed window tints come with great customer service! Installation teams value their customers — hence, they took their service one step further by providing them with guarantees!
They'll accommodate unsatisfied customers without questions unlike in windshield sun shades.
Great Investment
When properly installed, window tinting can last for a long time — meaning you get to spend less on air conditioning and upholstery maintenance for a long time. It's a great investment and several car owners stand by it.
Take The Trouble Out Of Keeping Your Car Cool
It's not taboo for most car owners to use both window tinting and car windshield sun shades in keeping their cars cool — literally and figuratively! As a matter of fact, a lot of people think it's the best way to go.
Make the most out of your investment by keeping your car in great condition. If you already have a sunshade at home, the next step is for you to start looking into window tinting companies! Don't forget to ask for sample works, reviews, and estimates in searching for the perfect provider.
You can start by looking within your local shops or by asking for recommendations from your relatives or colleagues! As for Arizona drivers, don't be afraid to set a schedule with us and we can discuss how we can keep your vehicle looking and feeling cool! Call us and get a free estimate!